Marci Liroff's extensive credits as a casting director span more than 50 films. While working at the renowned casting office of Fenton-Feinberg Casting she, along with Mike Fenton, cast such films as Bob Clark's A Christmas Story and Porky's; the Academy Award-nominated Poltergeist; Steven Spielberg's E.T.– The Extra Terrestrial and Indiana Jones and the Temple of Doom, and Ridley Scott's Blade Runner.
After establishing her own casting company in 1983, MARCI LIROFF CASTING, Liroff cast several successful films including Footloose, St. Elmo's Fire, Pretty in Pink, The Iron Giant, The Spitfire Grill, Untamed Heart, Freaky Friday, Mean Girls, Ghosts of Girlfriends Past, Mr. Popper's Penguins, Vampire Academy, The Sublime and Beautiful, which she produced as well. Liroff cast the feature film Magic Camp for Disney which will be released in early 2018.
Whether it's an indie or big blockbuster movie, Liroff makes a good film great and a great film a classic.
Watch Marci's Sizzle Reel(full version):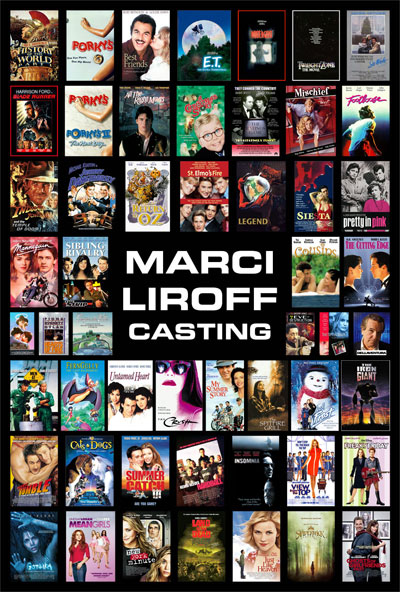 Casting Director Credits:
Magic Camp (2018), Catfight (2015), Change of Heart (2015), The Sublime and Beautiful(2014),  Vampire Academy(2014) Mr. Popper's Penguins (2010) The Paul Reiser Show (2010) Ghosts of Girlfriends Past (2009) The Spiderwick Chronicles (2008) Atlanta (2007) Full of It (2007) Just Like Heaven (2005) Land of the Dead (2005) New York Minute (2004) Mean Girls (2004) View from the Top (2003) Gothika (2003) Freaky Friday (2003) Insomnia (2002) Hard Ball (2001) Summer Catch (2001) Cats & Dogs (2001) Ready to Rumble (2000) "The Strip" (1999) The Iron Giant (1999) Jack Frost (1998) "Dellaventura" (1997) The Spitfire Grill (1996) The Tie That Binds (1995) It Runs in the Family (1994) The Crush (1993) Untamed Heart (1993) FernGully: The Last Rainforest (1992) The Cutting Edge (1992) Eve of Destruction (1991) The Washing Machine Man (1991) Sibling Rivalry (1990) Men at Work (1990) Coupe de Ville (1990) Cousins (1989) The Experts (1989) Homesick (1988) Hearts of Fire (1987) You Ruined My Life (1987) Siesta (1987) Mannequin (1987) Pretty in Pink (1986) Legend (1985) St. Elmo's Fire (1985) Return to Oz (1985) Mischief (1985) Johnny Dangerously (1984) The Ratings Game (1984) Indiana Jones and the Temple of Doom (1984) Footloose (1984) A Christmas Story (1983) Running Brave (1983) All the Right Moves (1983) Twilight Zone: The Movie (1983) Porky's II: The Next Day (1983) Best Friends (1982) Kiss Me Goodbye (1982) Endangered Species (1982) Best Friends (1982) Six Weeks (1982) Blade Runner (1982) Poltergeist (1982) E.T.: The Extra-Terrestrial (1982)
Producer Credits:
Save