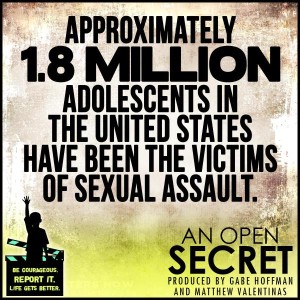 By Marci Liroff

In my last article, I had just seen the eye-opening documentary "An Open Secret," which exposes the years-long grooming and sexual molestation of several children in the modeling, film, and television industries.
I spoke with Anne Henry and Paula Dorn of BizParentz Foundation, who furnished the documentary with several years of files they had fastidiously collected on suspected child predators.
In terms of keeping kids safe in cyberspace, how have things improved?
The good news is that we now have two new laws in California. The Child Performer's Protection Act was spearheaded by BizParentz and signed into law in September 2012. It requires fingerprint screening and a permit for those working closely with children in our industry.
The other law, the Krekorian Talent Scam Prevention Act (AB 1319), protects all actors against financial predators by banning advance fee agents and managers and regulating those who charge a fee for services like acting classes, website design, photography, showcases, and CD workshops. Sexual predators scout for victims in these venues. We've had several convictions under this law, which was created by the first-ever collaboration of unions, studios, the MPAA, managers, agents, parents, and law enforcement.
How can parents "police" their kids' images and general personal welfare online?
1. Set up a Google Alert for your child's name and the names of those with whom they work.
2. Check your child's phone often—let your child know you are doing this.
3. Take control. Research everyone with whom you work or are considering working, even if you think you know them. Check the sex offender registry, and ask agents, managers, and other parents on message boards. Check the databases available for the licenses that they should have. For instance, most of your service providers should have a CPS permit. Check the updated Talent Service Bond list. Talent agents must have a license. In California, that is a searchable database.
4. Be a powerful, professional "stage parent." Never, ever leave your kid alone. Do not drop them off with others on set or allow them to travel without you. Do not let them socialize alone with adults, even the ones you know. Acting classes, coaching, and auditions must be done independently, but you should make sure to be right outside the door, very visible and very tiger-mom-like. Predators will view your child as too much of a risk. Elite-level professionals recognize the risks and will view you as a savvy parent.
5. Biggest tip: Learn to listen to and follow your instincts. If you or your child feels apprehensive, do not involve yourself. Do not abandon your normal parenting rules because you are involved in entertainment. Do not attribute odd behavior to "Hollyweird" or make exceptions because someone is powerful or famous.
Is there a way to report someone who is operating without a CPS permit?
You could report it to the Division of Labor Standards Enforcement, but like most laws, the enforcement in this law lies with those who were wronged. When BizParentz gets notified that someone is operating without a permit, we contact him or her with information about how to comply (thus setting up a written record that they knew about the law to aid with a conviction later if we need it). We give them a bit of time to get the permit, since we are still in an education phase of this law. But then their reputation will take a hit when they are called out in public for operating illegally.
Parents should not work with providers who don't have a permit. It's that simple. Tell your service provider that you can no longer work with them or pay them if they do not comply. Then move on.
Check out BizParentz.org for resources on these topics.
Make sure to check out my new online course "How To Audition For Film and Television: Audition Bootcamp". You can view it on your laptop or your mobile device and your subscription gives you lifetime viewing privileges for this course. I'll be adding lectures throughout the year.
Like this article? Help spread the word!
Click to tweet!
Warning: I grant permission to share my blog as written with no additions or deletions.  Posting my blog is in no way an endorsement of another site unless you obtain my written consent.)