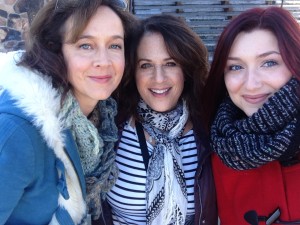 Sublime and Beautiful stars Laura Kirk, Anastasia Baranova and me in the middle!
By Marci Liroff
I just got back from the Slamdance Film Festival, where my film, "The Sublime and Beautiful," made its world premiere. Aside from coming down with a wicked case of bronchitis, it was an amazing week in Park City, Utah. I got to see many new films and meet the filmmakers; as a casting director and producer, I always have my eyes peeled for great filmmakers on the rise and actors I've never seen before. It's such a great marketplace to discover new talent.
I had the pleasure of seeing a little gem of a movie called "Three Night Stand," starring Sam Huntington, Emmanuelle Chriqui, and Meaghan Rath, and shot in Montreal. I'd known of Sam from his work on the film "Detroit Rock City" and, of course, playing Jimmy Olsen in "Superman Returns." Emmanuelle you'll remember from "Entourage." New to me was Meaghan Rath, who is beautiful, smart, funny, and quirky—such a great combination in an actor.
Being a filmmaker with a film at a festival is one thing, but I was curious what it's like for an actor. I had a chance to talk to Meaghan after Slamdance, me from my sickbed (!) and Meaghan on the set of her Syfy series "Being Human." I asked her, "From the actor's point of view, what can one do to 'work it' to your advantage? Did you take any extra steps, like hire a publicist?" She replied, "I think Slamdance is a whole other ball game when it comes to festivals. For the film, we did hire a publicist. We wanted to take full advantage of all the potential press. The best thing you can do for your film at that point is exposure. You want people to see the poster, see the actors, and hear the title."
She continued, "As an actor, I'd been working with my own publicist for almost four years when I started doing my show, 'Being Human.' For the festival, my personal publicist is able to work with the film's publicist to secure press opportunities where I can promote the film, as well as myself, and the other projects I have going on."
I asked if she thought Slamdance differed from other festivals in terms of what an actor should be doing to network and interact with filmmakers. Meaghan responded, "In regard to networking, I have to be honest—I'm not a big networker. But I think the energy and general feeling of Slamdance is one of support. So I made an effort to go to the parties and meet the other filmmakers, see their movies, and participate in the festival as much as I could." And indeed she did, because I saw her everywhere I went!
For me, the parties are not necessarily my scene. However, there are so many other ways you can take advantage of a film festival. I spent my time seeing as many of the films that were competing in our category as I could, along with going to several of the panels. Stay tuned for part two, in which I explore some of the panels at the Slamdance and Sundance film festivals, along with my thoughts on indie filmmaking!
Make sure to check out my new online course "How To Audition For Film and Television: Audition Bootcamp". You can view it on your laptop or your mobile device and your subscription gives you lifetime viewing privileges for this course. I'll be adding lectures throughout the year.
Please share your comments/stories on being at a film festival.
We'd love to hear your experiences
Glad you're here – Marci