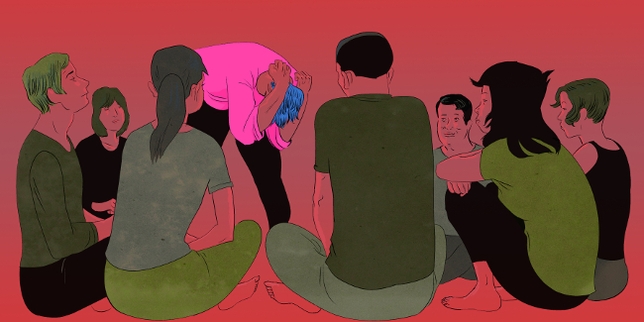 Illustration courtesy of Nick Bertozzi
If you're in the Los Angeles area in April, my Spring Audition Bootcamp classes have just been announced.
April 10, 17 & 24, 2018. Please click here to read the description and apply. If you apply and are confirmed before March 26, get 10% off!
I look forward to working with you.
******
I get this email about 20 times a week: "Hi, Ms. Liroff. My wish is to be an actor. I've always wanted to do it but I don't know how to get started. I have no experience at all, but my dream is so big, I can't let that stand in my way. I've read all your articles and I think you're the perfect coach for me. When can we get started?"
While I would never squash anyone's dream, this is a perfect example of putting the cart before the horse.
You've got to learn the fundamentals of acting before you start working with an acting coach.
For instance, a gymnast trains extensively and then gets a coach. You need to be in weekly classes. When you're in classes, you'll be able to get up and work every week in front of a room full of people. Not only will you learn from your teacher, you'll get to witness some great (and not-so-great!) actors and learn from their victories and defeats.
When I'm working with an actor, I can immediately see if they've had no training because they do not even know how to stand. They don't know what to do with their hands, they're not in touch with their body. Movement classes will help you connect with your instrument.
I'm seeing too many actors who do not know how to use their voice effectively. They're not breathing correctly, which leaves them without power. They aren't enunciating properly, which makes gorgeous dialogue turn to mush. Voice classes will give you insight on how to use your instrument properly.
Once you've got your foundation set with acting classes, it's important to understand how to work with the camera. There's a very specific skill set that you need to master before you're going out for auditions.
Some of the issues you need to know are:
In TV and film, always connect with your reader. If there are other people in the scene, you can place them just to the right of the camera, not off to the far left.
Being off-book is now a given. There is no point coming in and reading your sides; we call people who do that "reciters." If you don't know the material inside and out, you will not be able to take direction and connect with your reader.
I get emails from parents saying they want to get their kids into acting, and then ask me to coach them. They don't know if their child even likes acting. Get your kid into classes first and see how she responds. My friends with kids who think they want to be actors say no year after year until they feel the child really means it and is truly ready.
Your acting coach helps tweak and shape your work and gives you confidence and another set of eyes on your performance. But you must have a performance to begin with! Coaches are not meant to be acting teachers—that's what acting classes are for.
Make sure to check out my new online course "How To Audition For Film and Television: Audition Bootcamp". You can view it on your laptop or your mobile device and your subscription gives you lifetime viewing privileges for this course. I'll be adding lectures throughout the year.
Warning: I grant permission to share my blog as written with no additions or deletions. Posting my blog is in no way an endorsement of another site unless you obtain my written consent.)
Like this story? Help spread the word! Click to tweet.