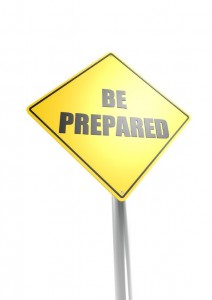 By Marci Liroff
When my casting director colleagues are asked, "What is the one thing you tell actors to do before their audition?" they unanimously reply, "Preparation!" I often write about preparation, as it is key to a good audition or an upcoming job, whether it be in acting or another field. In my article "How To Prepare BEFORE The Job" I talked about what you should bring up with your representation (and yourself) before committing to a gig.
Preparation comes in many forms. You've learned your lines and are off-book. You've made distinct and unique character choices. In addition, you've researched the filmmakers, so you know their credits and expectations based on their previous work.
I continue to be shocked by how many actors come in either for a coaching session or an audition and spout lines about a subject they don't know anything about. Worse, they are reciting words and they don't know the meanings.
As an actor, you are asked to interpret the material. If your character is meant to talk about a topic that you know nothing about, I expect you to look it up and do the proper research. I want you to know it inside and out. On the rare occasion that the director might ask you to riff or do some improvisation, wouldn't it be great if you've already done extensive research on this topic and you'll easily be able to talk about it as your character? Those who don't are caught with the "deer in headlights" look plastered across their faces.
Likewise, I've had several instances when I'm auditioning an actor and they don't know the meaning of the words they are saying, nor how to pronounce them. When you mispronounce a word or don't know the meaning or intention of what you're saying, it lacks conviction. It takes me out of the scene and I stop believing you. As much as casting directors say that we want you to get the job, you lose us when you don't do the simplest bit of homework. Correct pronunciation is the most basic part of your preparation, and it never ceases to amaze me when an actor doesn't take this essential step.
Imagine you are a doctor who is performing surgery tomorrow. I will bet that you'd do research and reread the latest literature on the procedure. This is your job, folks; this is what you have chosen to do for a living. If you try to take shortcuts then that is the career you're going to have. I can guarantee it.
What about you? What steps do you take to prepare? I'd love to hear your thoughts.
Make sure to check out my new online course "How To Audition For Film and Television: Audition Bootcamp". You can view it on your laptop or your mobile device and your subscription gives you lifetime viewing privileges for this course. I'll be adding lectures throughout the year.
Want to share this article?
Click to tweet: #Google Is Your Friend – look it up BEFORE your audition! http://bit.ly/1s4nh1b via @MarciLiroff pls share
Click to tweet: Know what you're talking about and how to pronounce the words BEFORE your audition http://bit.ly/1s4nh1b via @MarciLiroff pls share