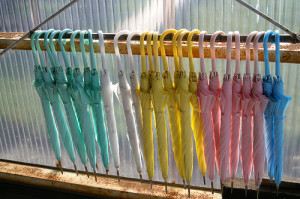 Photo credit: Kanonn
By Marci Liroff
You've got an extremely emotional scene to do. You arrive early to your audition so you can get settled and get in your "zone".
In the waiting room you overhear the casting assistant talking to CAA about sending a script to Mr. Famous Actor for your role. You can actually hear the actors auditioning in the other room and they're getting a great reaction. You're starting to question all your choices. "Eek! I wasn't gonna do that!"
You shove your earbuds even further into your ears hoping you can drown out all these distractions that will be undoubtedly be your undoing. "I'm good. I'm in my zone. I can do this!" you repeat over and over. You're calling up your character's emotional past to grab onto the emotions you'll need for the upcoming scene.
You're ushered into the casting office and are greeted by a peppy and excited assistant OR a group of people that barely register that you're in the room to audition. Then they want to chat. "How's it going?/What did you think of the script?/Do you have any questions?" In the background you can hear the distinct sound of your heart beating so loudly that you can barely hear them asking you these inane questions. Then you realize, no, it's not your heartbeat it's the distinct sound of a drill because they're putting on a new roof on the office while you're auditioning.
Are we having fun yet? No, we're not. How can an actor give a great audition against all these odds that seem to be set up as an obstacle course to make them fail? Protect yourself. Yes, YOU have to protect yourself against all these outside elements. Concentration is key but asking, or rather telling them what you need is also crucial. This is what I call "controlling the room".  If you have a traumatic scene to do and you're all geared up to connect to the character's pain emotionally, then you come into an office and have to chat first – protect yourself. You can say, "I'd love to jump into the scene first then we can chat after." It's all about the way you ask/tell. If you're polite and gracious you can get away with murder in this setting – as long as you're not a diva about it.  Remember, we want you to do well. We want to help you. It's ok to ask a specific question about the scene, character, screenplay beforehand but make sure that you can use the answer in a very specific way to inform the way you'll play the upcoming scene.
If you get lost in the first few moments of the scene, stop and say, "I'm going to start over" and do just that – start over. Don't ask for permission. You need not make a big deal about it. Don't apologize and don't have a meltdown. Remember, you didn't do anything horrible – but if you flip out and say, "I'm so sorry, can I please start over? Damn I always do that!", then you give me pause and I'm now worried how you'll be on set if this happens. It's how you handle these little speed bumps that shows us what a pro you are.
Remember, this is your time. This is your audition. Tell us what you need.
I'd love to hear about how you protect yourself in auditions and I'm sure it would help our community as well. Leave a comment and share this blog with your friends.
Glad you're here!
Marci