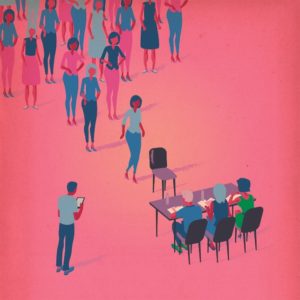 Illustration by: Nick Bertozzi
By Marci Liroff
"So what are my chances for getting this? Aren't they going to make offers to name actors?"
When I'm casting and coaching, these questions have come up too many times to not address the subject.
Stop doing this to yourself. You can't figure this out and shouldn't be spending any time trying. You've been chosen from thousands of submissions to audition, so you're already a winner.
"Wait just a minute, Marci. How did I win when I didn't get the role?" Let me break it down by the numbers to help explain. When I am casting a project, I come up with my lists. These lists are part wish lists, part reality lists, and part thinking outside the box and being creative. I have staffed my office with highly qualified individuals who have also cast films on their own. We put our heads together to come up with ideas based on our many years of combined experience.
Then I reach out to my agent and manager colleagues for their suggestions.
We now have a huge list of ideas for a role. In this digital age, agents and managers often submit as many as 3,000 actors for a single role on the first day.
Then we have the delicate task of going through each and every submission to decide who fits the role. Between our casting office's initial lists and the submissions, you can imagine it's a lot.
On a film, depending on the size of the role and scope of the project, we may bring in a couple hundred actors for the lead role, along with viewing several hundred self-taped auditions.
Imagine if you were chosen to audition out of thousands of actors. The other 2,800 actors didn't even get the chance that you did.
You have the opportunity to meet face to face and perform for the casting office.
If you're good and right for the role, we'll bring you back and continue to foster you through the casting process. If you're good but not right for the role, you've made a lasting impression on us and we'll remember you for another project.
I've never met a casting director who didn't have an impeccable memory. Even if we don't, we are known for our organization and you can bet we took very precise notes for the future. We depend on these meetings and our notes. We'll remember you for the next project and bring you in because we saw that you were a facile actor.
We may have an offer out to an actor and still hold auditions. Sometimes we shoot for the stars (all puns intended), yet we have an inkling it's not going to work out. Nonetheless, the role still needs to be cast, so we keep on going. My office will always alert the agent that there's an offer out so that the actor can decide whether he wants to come in. I always suggest you do, because there's really nothing to lose. All the preparation you do when you come in and give a great audition isn't wasted; it helps build relationships and we will always remember that great performance.
Make sure to check out my new online course "How To Audition For Film and Television: Audition Bootcamp". You can view it on your laptop or your mobile device and your subscription gives you lifetime viewing privileges for this course. I'll be adding lectures throughout the year.
Warning: I grant permission to share my blog as written with no additions or deletions. Posting my blog is in no way an endorsement of another site unless you obtain my written consent.)
Like this story? Help spread the word.
Click to Tweet!